Book fast ferry ticket from Tran De to Con Dao by Vietnam's largest catamaran and explore famous landmarks with many special national monuments such as Con Dao Prison, Hang Duong cemetery, Pier No.914…. and experience an exciting journey in the sights of Con Dao National Park.
With the best price from only 320,000 VND, you can easily own a fast ferry ticket from Tran De port (Tran De district, Soc Trang) to Con Dao with just a few simple steps. Join us to discover information about the fast ferry from Tran De to Con Dao!
Arriving at Ben Dam port, following the road along the coast for about 15km, you will reach the center of Con Son town, the most densely populated place in Con Dao and the place adjacent to the historic sites of the cluster. Con Dao national special relic.
It can be said that Con Dao is one of the destinations you should definitely visit once in your life. At Con Dao, you will experience interesting activities such as sleeping overnight on Bay Canh Island, scuba diving to see corals, visiting sacred destinations such as Hang Duong Cemetery, visiting the grave of heroic martyr Vo Thi Sau, spiritual tourism at Nui Mot Pagoda, An Son Mieu. At the same time, enjoy the specialties and great seafood such as Vu Nang snail, Moon crab, Mu Ni Shrimp, Sa Sung,….
Popular fast ferries to Con Dao
Currently, Tran De – Con Dao route is operated by two ferry lines, Con Dao Express and Superdong, and Con Dao Express operates this route by one of the largest catamaran fast ferry in Vietnam (with residents in the western region of Vietnam). The South is simply called the Red Ferry), while Superdong operates by Superdong Con Dao 1 and Superdong Con Dao 2.

The best time to travel to Con Dao
Con Dao is associated with sea and island tourism, the folk who go to the sea often have the saying "March wind – the old woman goes to the sea" implying that this is the calmest time of the year, therefore, the time from From Tet to the end of summer, from March to the end of September every year is the best time to travel to Con Dao. However, from October to February, although the sea of ​​Con Dao often has big waves due to the influence of the northeast monsoon, because this time is the dry season, there is always sunshine and it is also a good time to visit to Con Dao.
Today, the ships are newly built, equipped with modern equipment to limit the waves, so going from the shore to the island is also extremely convenient and less restricted by the weather, except for the big waves, big wind.
Fast ferry ticket from Tran De (Soc Trang) to Con Dao
The distance from Tran De (Soc Trang) to Con Dao is 102km, equivalent to more than 40 nautical miles. Passengers can get to Con Dao by many different means, but the journey from Tran De to Con Dao with only 1 hour and 45 minutes by fast ferry is the most used means of transport because of its speed and price. Reasonable, good service.
Shipping lines that are operating high-speed train routes from Tran De – Con Dao include Superdong and Con Dao Express. Con Dao Express is operating a direct ferry route from Tran De to Con Dao with the fastest time of 1 hour 45 minutes by the largest catamaran fast ferry in Vietnam.
FARE TABLE FOR TRAN DE CON DAO FAST FERRY TICKET
The detailed price list is as follows:
Time

 Eco

Children/

Elderly

People with disabilities

VIP

Monday → Thursday
390.000
312.000
292.500
590.000
Friday→  Sunday
450.000
360.000
337.500
590.000
Note:
-Children (6-11 years old) and the elderly (over 60 years old) apply Eco discount according to company policy – ​​The above price includes VAT.
– Children under 6 years old or under 1m2 in case of sharing a seat with an accompanying adult will be free of charge for boarding tickets.
– The above fare is calculated according to 01 turn from Vung Tau to Con Dao or Con Dao to Vung Tau.
Journey time:
| | | | | |
| --- | --- | --- | --- | --- |
| Route | Departure time | Operating ferry | Landing time | Number of seats |
| Trần Đề – Côn Đảo | 9:00 | CD36/Trưng Nhị | 11:00 | 598 |
The Trung Trac (or Trung Nhi) ferry will depart from Con Dao Express fast ferry pier at Cang hamlet, Tran De town, Tran De district, Soc Trang province at 9:00 and return from Ben Dam port, Con Dao, Ba Ria-Vung Tau) at 12:30 pm. Trung Trac/Trung Nhi/Con Dao Express 36 is the largest catamaran fast ferry in Vietnam today, nearly 47 m long and 12 m wide. Speed is ​​35 knots (about 65 km).
The VIP compartment on the upper deck, 130-degree reclining seats, is equipped with a separate entertainment screen with rich content according to international standards.
VIP seats on Soc Trang – Con Dao fast ferry
The general compartment has a large space, soundproof floor to prevent noise and especially has a sound system with wireless headphones, creating a quiet space for customers.
Outdoor deck upstairs: capacity up to 100 people, tourists can admire the beautiful scenery of the sea during the cruise.
On the deck of Tran De Con Dao ferry
Experience buying ticket for Tran De – Con Dao fast ferry
Currently, because this is the closest route from the shore to Con Dao, it is preferred by most passengers with symptoms of motion sickness and seasickness because the time on the sea is short and the southwest sea is relatively quiet. So the good seats in groups, families, groups of friends often run out very soon. Understand that, https://vetaucondao.vn will reveal to you some tips to be able to buy ticket for Tran De – Con Dao fast ferry in the easiest and simplest way.
Choose a time to book tickets: You should book tickets for high-speed trains 2-3 weeks in advance. In particular, the high-speed train Tran De to Con Dao is always booked by passengers because this is the fastest route from the mainland to Con Dao, only 1 hour 45 minutes. For example, going in the peak tourist season of Con Dao in the summer months, you should prepare to book tickets from 2-3 weeks. You can contact our hotline to check via simple Zalo message 0889271234 – 0889371234 or email: booking@vetaucondao.vn
How to move from Ben Dam Port to Con Dao Center?
With 15km along the unique coastal road from Ben Dam port to Con Dao, it only takes about 30 minutes to reach the center of Con Son town, Con Dao district.
To move from the pier to the town and vice versa, there are many different ways such as: taking a taxi for about 20,000 VND/km, tram or bus for about 40,000-50,000 VND/trip/pax, or if you are a priority person. If you like adventure, you can rent a motorbike right at the pier for only 100,000 – 150,000 VND/day/night.
In general, when the number of visitors to Con Dao is increasing day by day, the people who do transport services in Con Dao have always updated the train schedule to pick up passengers at the pier, so passengers can completely go to Con Dao with peace of mind. A special feature that we, who have experienced, is that Con Dao rarely happens to cut off transportation services because the island is too small to avoid bad rumors.
Spiritual tourist attractions in Con Dao
Con Dao is one of the attractive destinations with wild and enchanting beauty. Although formed for more than a hundred years, the relic of what was once considered a hell on earth is still intact and increasingly bustling with the footsteps of thousands of tourists. They came to learn about the place where political prisoners from anti-French to anti-American era were detained, tortured and killed. Chains or barbaric tortures for a while could not cover the will to fight bravely and bravely.
Con Dao people told me that: "Con Dao land is soaked with heroic blood, piled up with soldiers' bones… Evidence of the crimes of colonialism and imperialism can be found in every pebble, grain of sand, and bush. …". Not only is the proof of its heroic history, Con Dao is now also one of the most sacred places with famous spiritual sites. Hang Duong Cemetery, Mrs. Phi Yen's Temple, Nui Mot Pagoda, Ms. Sau's grave… each place has its own story, but they are all places containing the beliefs and wishes of the people of Con Dao and Con Dao. visitors as well.
Visiting Miss Vo Thi Sau's grave
Miss Sau's grave has long been a symbol associated with the image of Con Dao. Located in Area C of Hang Duong Cemetery, Ms. Sau's grave is a place that attracts a large number of tourists to worship. Also because of the sacred reputation, always protecting those who sincerely turn to good, her grave is never empty of people who come to worship and offer incense.
Tomb of Heroic Martyr Vo Thi Sau in Con Dao
Come to Hang Duong cemetery to remember the revolutionary soldiers
Hang Duong Cemetery is the largest cemetery in Con Dao. This place is buried tens of thousands of patriots and Vietnamese revolutionary soldiers through generations of imprisonment, lasting from 1862 to 1975, in the Con Dao prison of the French colonial government, and later the government. rights of the Republic of Vietnam. The cemetery consists of 4 main zones A, B, C, D and is also the resting place of many patriotic "monuments" such as Vo Thi Sau, Le Hong Phong, Nguyen An Ninh… No one comes to Con Dao without stopping. burning incense sticks to commemorate the merits of heroes and martyrs in Hang Duong.
Con Dao prison system
Not a sacred place, but Con Dao prison is a very rare destination that tourists miss when traveling spiritually in Con Dao. Previously, this "hell on earth" with a system of clusters of works such as: Tiger Cage, Cow Cage, Phu Hai camp, Ma Thien Lanh bridge, Lo Voi department, Salt department …. was built for the purpose of reeducation, detention and torture of revolutionary soldiers.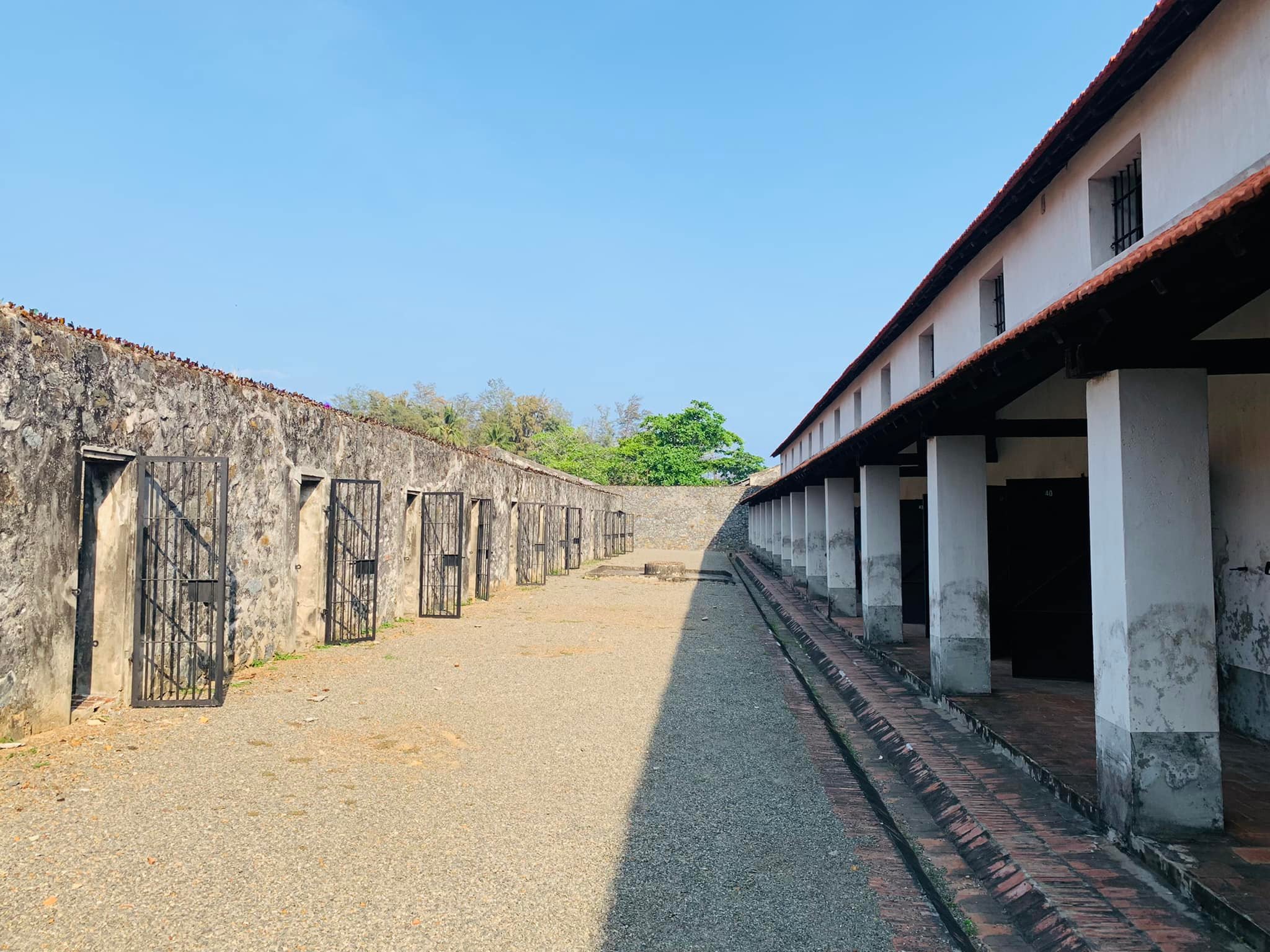 Temple of Nui Mot Con Dao
Nui Mot Pagoda (Van Son Tu) is located on Nui Mot Mountain, Con Dao district, built by the US puppet army in 1964 to serve spiritual beliefs for the families of people working in the administrative apparatus, military officials. doctor on the island. Today, the pagoda is not only a cultural work, a scenic spot, a historical relic of Con Dao district but also a place for people and tourists to make pilgrimages, to be charitable and to pray.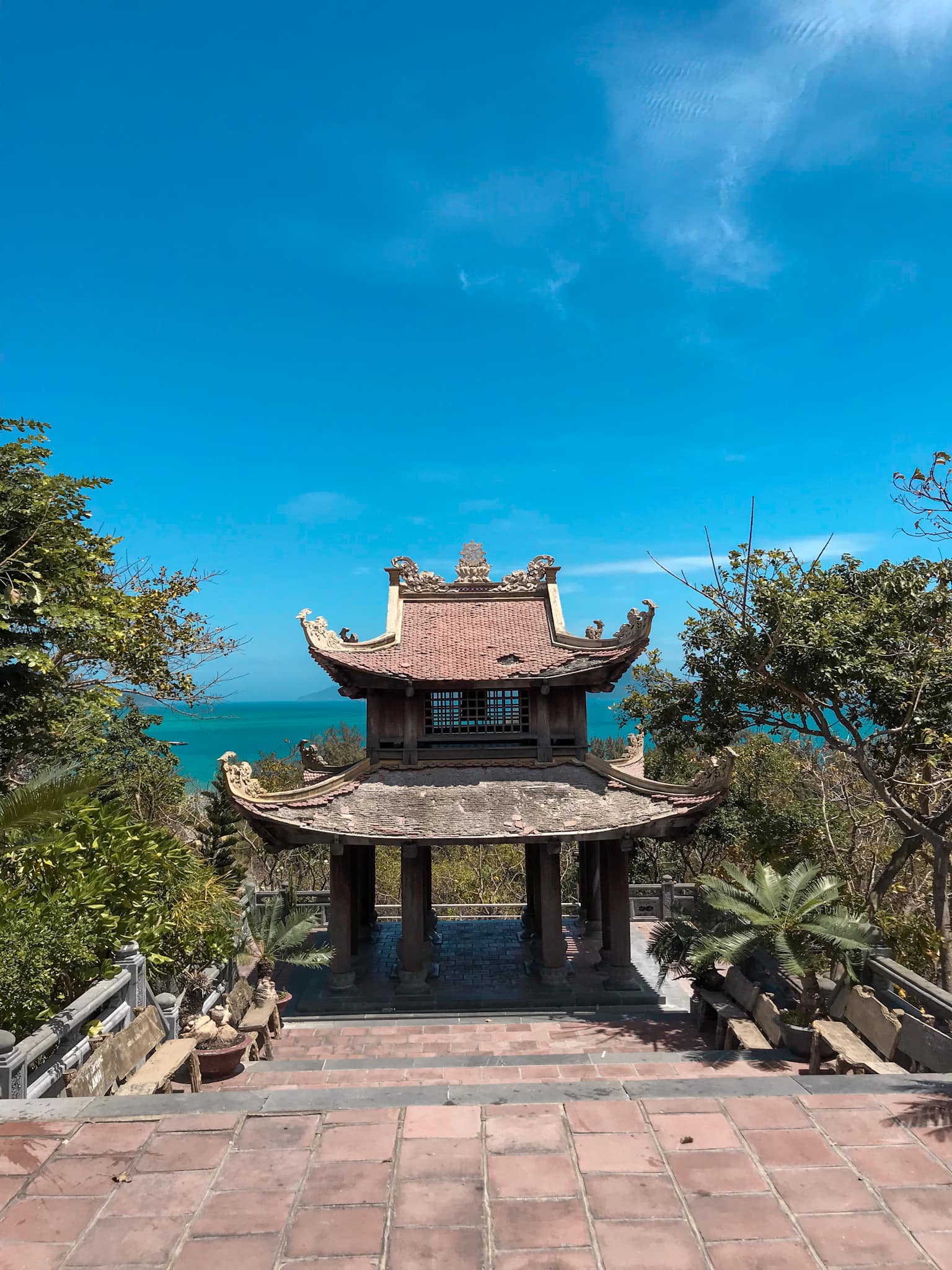 People come here sincerely to stand in front of the Buddha's door, burn incense and pray for blessings for their families and loved ones, as well as pray for the souls of heroes and martyrs to be saved forever. During the day, the temple is always "numpy" with tourists coming in and out to pray.
Ba Phi Yen Temple (An Son Temple)
Another spiritual place in Con Dao that visitors should not miss when going to Con Dao is the Temple of Ba Phi Yen and Prince Cai. The temple is very sacred, associated with the tragic story of the talented, virtuous and patriotic woman Phi Yen. Admiring the faithful, virginal woman here, the people built a shrine to worship her called "An Son Mieu".
An Son Temple
It is said that Ba Phi Yen and Prince Cai (her son) were canonized, often appearing to tell the villagers that good and bad omens were about to happen. That is why since the day the temple was established, there was never a time when the temple of Ba Phi Yen was empty or cold. According to the islanders, people and tourists come here mostly to pray for peace and hope that Ba Phi Yen bestows fortune and prosperity.
Reference: Taucaotoc.vn