Book ticket for fast ferry from Vung Tau to Con Dao, stop to explore the beautiful pearl island with long beaches, clear water, whispering waves… If you are planning a trip to Con Dao, let's go together to Con Dao Express for learning useful information about Con Dao, as well as the price of fast ferry ticket to Con Dao, the right time to buy ticket, and the means of transportation when coming here.
Fast ferry routes to Con Dao
Find out the fare for fast ferry from Vung Tau to Con Dao
The best Con Dao fast ferry ticket booking experience
You can easily book a round-trip speedboat ticket to Con Dao at any time. However, pay attention to the train schedule to hunt for cheap tickets to Con Dao. Note about the time of booking, midweek or weekend trains have relatively different prices, from Monday to Thursday the price will be lower than on weekends and holidays. If you do not have a busy schedule, do not travel with children or the elderly, you can consider high-speed trains in the middle of the week to save money on your journey. If you want to have cheap speedboat tickets to Con Dao in promotions, it's best to follow the website https://vetaucondao.vn/ because this is a level 1 agent and one of the selling agents. They have their own customer care and promotions regularly.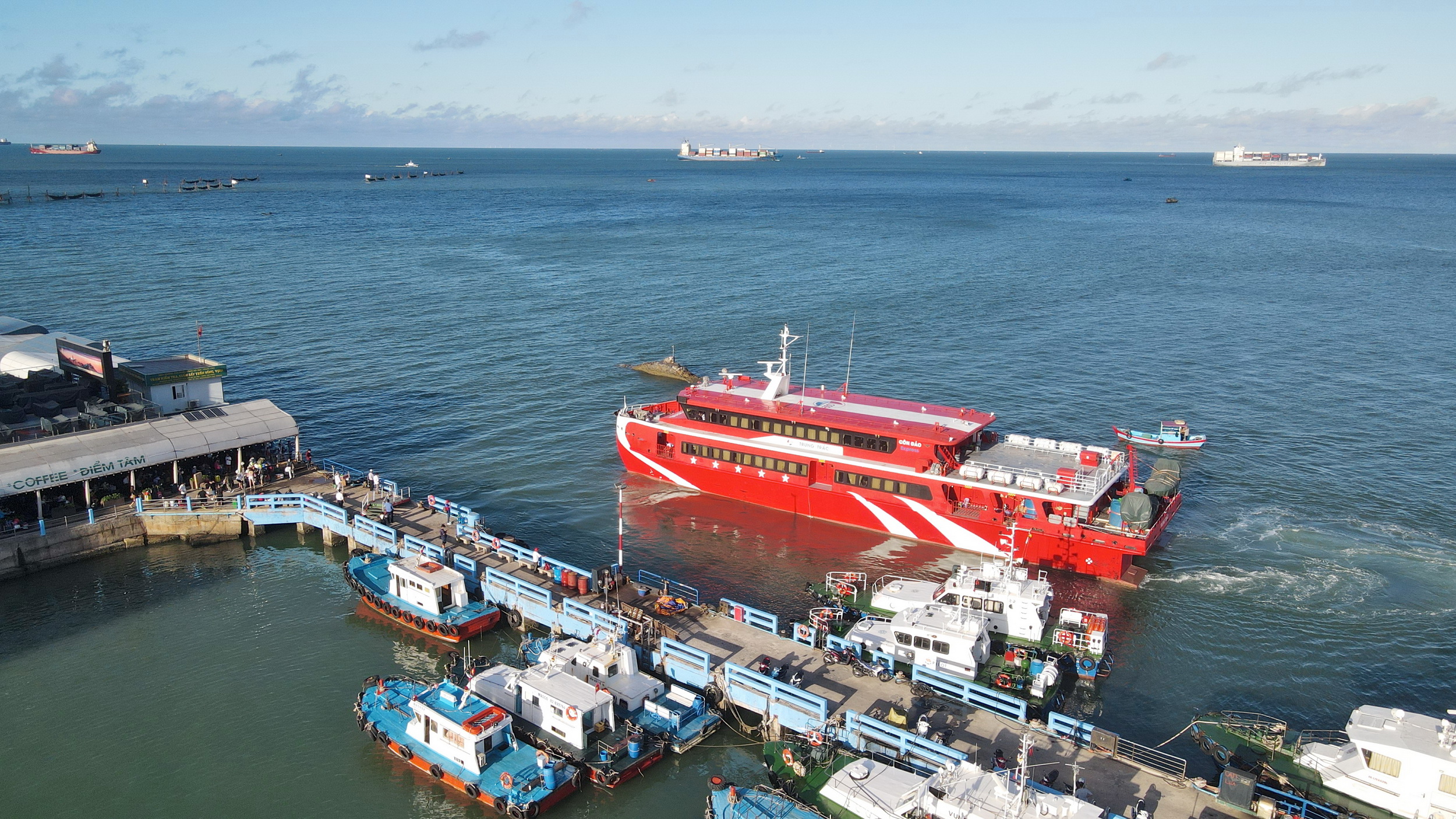 How much does a fast ferry ticket from Vung Tau to Con Dao cost?
Currently, Con Dao Express is an almost exclusive company operating the Vung Tau fast ferry route directly to Con Dao with the best price for each leg of 66,000 VND. Refer to the specific price list below (including taxes and fees):
From Monday to Thursday
VIP: 1,200,000 VND
ECO: 790,000 VND
Elderly/Children: 630,000 VND
People with disabilities: 550,000 VND
From Friday to Sunday, Holidays, Tet
VIP: 1,200,000 VND
ECO: 950,000 VND
Elderly/Children: 760,000 VND
People with disabilities: 665,000 VND
Time of ferry to Con Dao
The train time from Vung Tau to Con Dao with a journey of only about 3 hours 45 minutes to about 4 hours depending on weather conditions helps you save more time than before. The frequency of the ferry is only 1 trip per day, departing at Cau Da Port, Vung Tau at 8:00 AM and returning from Con Dao at 13:30 PM.
How to move from Ben Dam Port to the town center?
As mentioned above, from Ben Dam port to the center of Con Son town about 15km, you can travel in many different ways, we can suggest in the following ways:
If you have booked hotel services, most hotels offer a free pier shuttle, so this is the best way we encourage our guests to be proactive in their journey.
Taxi: This is the vehicle chosen a lot because of its quick convenience and suitable for large groups with lots of luggage. Taxi fare in Con Dao is relatively high, if calculated by km it will be 20,000 VND/km, from the pier to Con Dao town about 280,000 VND. If you know a driver in Con Dao, please contact us first, the price is only about 200,000 VND.
Motorbike taxi: This is a relatively cheap method, only about 100,000 VND – 200,000 VND / trip, however, this is the form we recommend that customers should not participate in windy days because it is relatively dangerous because The winding roads between the mountains and the sea in Con Dao are relatively windy.
Tram: This is one of the relatively optimal options, the price is calculated by each passenger with only 40,000 – 50,000 VND/pax, many passengers choose this option because they can both move and enjoy the scenery at the same time in Con Dao.
Book the best fast ferry ticket to Con Dao from only 790,000 VND at vetaucondao.vn
If you are wondering how much is the price of a high-speed train ticket to Con Dao, please visit the website homepage https://vetaucondao.vn/, select the departure point, destination, flight type (round trip, one way). or multiple routes) and find the right train. Book tickets to Con Dao online with Con Dao Express – Simple, fast, suitable for your time and itinerary. Not only supporting booking tickets for Vung Tau to Con Dao high-speed train, we are always ready to support you 24/7 in related issues such as online check-in support, advice on documents or procedures, regulations. baggage, handle arising issues related to tickets… in a professional and efficient manner. Hurry up and book a high-speed train ticket to Con Dao at a good price with Con Dao Express today to get great promotions and incentives! Please contact us at:
Introduce about Con Dao
Con Dao district is an archipelago of 16 large and small islands located in the middle of the ocean, 185km from Vung Tau, 230km from Ho Chi Minh City, about 83km from the mouth of Hau River (Can Tho). The natural area of ​​the whole district is about 76km2, of which the largest island has an area of ​​51.52km2 called Con Lon or Con Dao which is the economic – cultural – political – social center of the district. The population in 2019 is about 8,000 people, there are no administrative units of wards and communes, only residential areas. The living environment in Con Dao is very fresh, the average temperature is about 26-27 degrees Celsius, which is cool all year round. All of the above is the tourism potential of Con Dao with various types such as: leisure tourism, historical sites sightseeing tourism, ecotourism (diving, fishing, mountain climbing) , visit the sea forest, marine life …). Every year, Con Dao welcomes hundreds of thousands of tourists. Coming to Con Dao, visitors can rest at fully equipped accommodation facilities such as Phi Yen Hotel, Saigon Tourist, Con Dao National Park guesthouse. Con Dao district has potential strengths for tourism development, seafood exploitation and processing, seaport development, petroleum and maritime services. The coastline is 200km long, there are many beautiful and wonderful beaches such as Dat Doc beach, Canh beach, Dam Trau beach, Hon Cau beach, Hon Tre beach… In addition, Con Dao National Park has an area of ​​nearly 6,000ha on the mainland. 14,000 hectares of sea surface with many rare plants and animals. Speaking of Con Dao, everyone knows that this place has a terrible prison system of France and the US with many large prisons such as Phu Hai camp, Phu Son camp, Phu Tuong, Phu Binh, tiger barn, cow barn and the Lord's house. The island and Hang Duong cemetery where 20,000 prisoners are buried, mainly revolutionary soldiers during the two resistance wars.
Ideal time to go to Con Dao in the year
The time from Tet to the end of summer, from March to the end of September is the best time to travel to Con Dao. However, from October to February, although the waters of Con Dao often have big waves, but because this time is the dry season, there is always sunshine and it is also a worthwhile time to visit Con Dao.
From March to the end of September is the time when the sea is calm, even though it is the rainy season, the rains in Con Dao are mainly showers lasting no more than 1 hour, other times of the day there is still sunshine. This time is suitable for tours on the sea, diving to see corals and exploring deserted islands. This is also the season of turtles from all over Con Dao to lay eggs.
From October to the end of February, due to the influence of the northeast wind, the waters of Con Son Bay often have large waves, but the surface in the west and southwest is still calm and less affected by waves.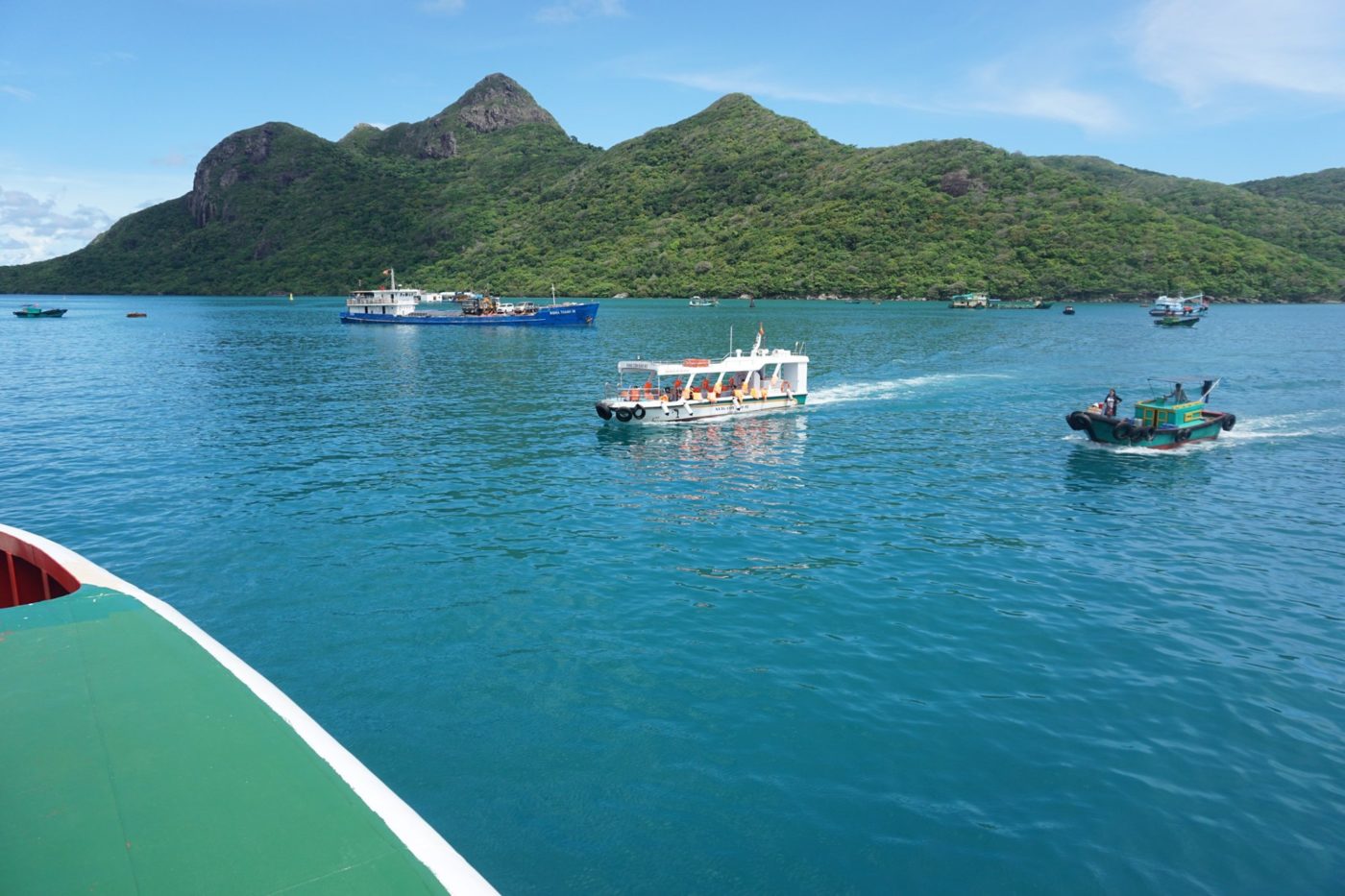 The famous tourist attractions of Con Dao
Con Dao, an island known as a tourist paradise – a place with many beautiful scenes, landmarks associated with history, cool weather and clean beaches, is a great tourist destination. that every tourist wants to come to visit and experience. Coming to Con Dao, you will be able to admire the nostalgic and interesting historical attractions along with the picturesque scenery that is so charming that once you have come, you will be held back by the beauty of the scenery here and do not want to leave. Join taubay.vn to list the famous tourist attractions of Con Dao!
Con Dao National Park: Con Dao National Park has an area of ​​nearly 6,000ha on land and 14,000ha in water. The relationship of coral reefs, seagrass beds and mangroves has created a favorable environment for breeding, nursery and conservation of marine species. The island's shallow waters are also home to many precious animals such as sea turtles, dolphins, dugong, etc. The biodiversity of Con Dao waters is of national significance for marine nature conservation in Vietnam.
Con Dao Prison Relic: Con Dao Prison Historical Site includes the prison system in Con Dao and the cemeteries belonging to this prison system. Historically, the French colonial government and the American empire built 127 cells, 42 cells and 504 isolated cells – "tiger cages" in Con Dao area. In 1979, Con Dao historical relic site was ranked as a national relic by the Ministry of Culture and Information (now the Ministry of Culture, Sports and Tourism), with 17 component relics including: Dao Lord's House; Pier; Camps 1, 2, 3, 4, 5, 6, 7, 8, 9; Investigation room; Ma Thien Lanh Bridge; Cow stables isolated area; Lime Kiln; Cong Quan House; Hang Duong Cemetery.
Bay Canh Island: Located in the east of Con Son island with an area of ​​683ha, the second largest of the 16 islands of Con Dao, Bay Canh islet is like a green feature dotted between the vast sea and sky of Con Dao. There is a vast system of primary forest covering almost the entire island.
Dam Trau Beach: In the journey to discover Con Dao archipelago, visitors will discover many small islands in the vast sea and sky and immerse themselves in clear and cool beaches. In particular, Dam Trau beach – one of the great stops in the discovery of Con Dao – will bring you new experiences.
An Hai Lake: If you have the opportunity to travel to Con Dao, do not forget to visit An Hai Lake with a poetic and lyrical natural scene as beautiful as a girl in the highlands. An Hai Lake is near An Son Temple, and is located on the road to the Holy Cross Mountain. The lake is 30,969 hectares wide with water lilies and flowers blooming brilliantly on the lake's surface, captivating many visitors with its picturesque scenery.
Van Son Tu – Nui Mot Pagoda: Not only possessing bold Buddhist architecture, Nui Mot Pagoda (or Van Son Tu) also has a prime location: Leaning back on the mountain, facing the sea, Con Son bay, town Con Dao and An Hai lotus lake. That's why anyone who comes here must praise and bestow the title of "the most beautiful temple in Vietnam".
Ong Dung Beach: This is an attractive tourist destination located on Con Son island, about 3 km west of the garden center, with beautiful, unspoiled natural landscape, fresh environment. From the center of the park, visitors walk about an hour on the trail through the forest to Bai Ong Dung.
Con Dao Islet: Located about 8km from the main island of Con Son (Phu Hai) to the northeast, is one of 16 islands of Con Dao. Hon Cau is famous not only for being one of the first places where the Vietnamese came to settle down in the 14th century, but also famous near and far for the beauty of nature and people here, especially the island. The wild features of the Creator remain unexplored.