Con Dao mackerel was known with the name " mackerel with oncetime in the sun" because after the catch, fishermen will wash mackerels with salt water, drying fish in the sun one time and not marinate more anypreservatives.
1- Mackerel with once time in the sun
Con Dao mackerel was known with the name " mackerel with oncetime in the sun" because after the catch, fishermen will wash mackerels with salt water, drying fish in the sun one time and not marinate more anypreservatives. Therefore, typical of the fish have no fishy smell of fresh fish and not dry as the dried fish which was dried several times in the sun. There are many dishes made from this fish such as frying, cooking with sauce … especially frying with tomato sauce is the most popular dish, serving with rice is delicious and wonderful.
2- Jam of seed of Terminalia catappa
Terminalia catappa in Con Dao is the kind of trees withlarge leaves and big fruits. When Lunar New Year coming, people also can pack Chung cake by these leaves. People here will harvest when fruits ripen, then bring them to dry in the sun. After that, they take kernel of seeds out and roast with salt or sugar as they like. They call this jam of seed of Terminalia catappa.
This jam is a well-known special food of Con Dao. Flavor ofjam is often brittle, fleshy, aromaticin the interesting way. This is a special gift imprinted the mark of this island.
3- Oyster Porridge
Oyster porridge is the dish which travelers often recommend to try when they come to Vung Tau in general or Con Dao in particular.
The main raw material of oyster porridge is a bowl of delicious rice, porridge andfresh oysters. After catching fresh oysters from the sea, they clean, marinate spices and fry to seep through. When cooked porridge done to a turn, they pour fried oysters into the porridge pot and taste.
4- Her breast snail
This snail named this special name because its shape similar to the breasts of women. This is one of the most attractive dish, it attracts from the name to its flavor. This Snail has a sharp pyramid shape, with white and plump meat.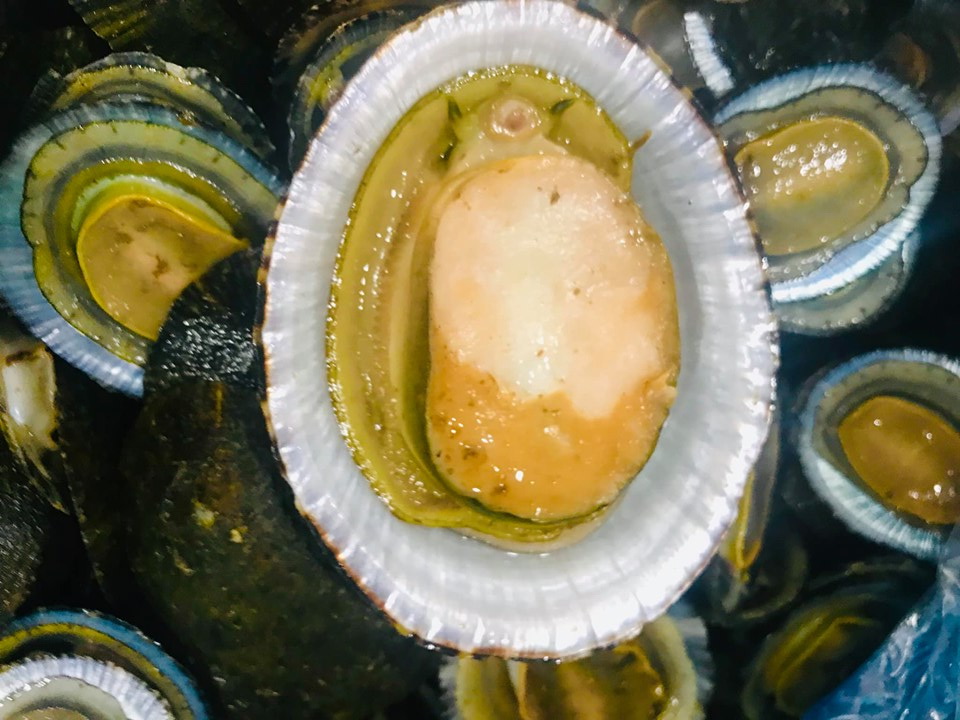 Her breast snail alwayscreatedelicious dishes, though processing by baking, boiling, stir-fry or salad … However, according to many visitors, the best is the dish which her breast snail grill with onion and pork fat. This is a famous specialty of Con Dao so you can also enjoy it in any restaurant here.
5- MoonCrab
Moon crab is a crab with strange shapes, red spotsand pink on the back. When watchingthis crab, they realize they like moon. That is why they gave it this name.
The most common way of processing is boiled or steamed, then dip their meat with a mix of salt, lemon and pepper. This way is really great. However, there are more many other ways of processing and also as attractive as like making soup, cooking meat crab with noodles or Bun. Each processing will bring unique taste, but all of them are always delicious, sheetmelling and sugarydue to the inherent taste of this crab.
6- Nhum sauce
This is known as the kind of noble sauce, because it is too meticulous, difficult and complex to catch and make a box of nhum sauce. Under the Nguyen Dynasty, Nhum sauce was one of the gifts offered to the court every year.
Nhum sauce is used to dip the boileddishes or rice paper rolls. When you enjoy this, you will feel the sweet taste of Nhum meat pinch a little salt taste of the sea, somewhat sourand fat.
7- Red Lobster
Red Lobster also known as firelobster by the dark red, a typical color of this shrimp. Con Dao Red Lobster is not big, but its meat is sweet and firm.
Lobster meat is delicious. They also attract us as a layer of golden roe extremely nutritious at the spine and on their head. This brick layer was thicker when winter came. Red Lobster can be processed into many delicious dishes such as sushi, steamed, salad, grilling or cooking porridge.
8- Sa Sung
Sa Sung is a species of soft body, with the scientific name as Sipunculus nudus. It is one of the rare seafood because catching is difficult and they only appear in large number in early March until July every year. Coming to Con Dao, you certainly can not ignore this specialty.
Sa Sung can also be processed into many different dishes as fried vegetables, porridge, soup, baked golden, crispy, salad … But the most popular dish is grilled sa sung, dipped with chili sauce. Sa Sung withboth crispy, tough and fat taste is a very nutritious dish.
9- Salad of shark meat and vegetables
This salad is a specialty you will hard forget after enjoying. A plate of shark salad will give you a soft, fragrantaroma shark meat and the spicy flavor of mustard. All of them blend with the natural materials such as Mo leaves, coriander, green banana, sour pineapple and star fruit.
10- Red Grouper
Red grouper is one of Con Dao's specialties that you can not ignore. There is another name as Song fish and this is the most popular fish in Con Dao with tough, sweet and very fragrantmeat. It is often processed into very attractive dishes such as grilling, salad, dipping in sauce.