Since April 1st, 2020, the Con Dao 10 ship has stopped operating. There is no trip from Cat Lo  ports to Con Dao. Passengers can only take high speed ship at Front Beach in Vung Tau or helicopter by Vung Tau Airport.
Why does Con Dao always attract tourists?
Before 1975, Con Dao was known as the hell on earth. But now, the historical values, spirituality and beauty here are attracting many investors and thousands of visitors.
Destinations and historical sites at Con Dao prison such as Phu Hai prison, French tiger cages, human skulls, … These are places to imprison revolutionary soldiers with shackles, torture battles along with the brutality of French colonialism and American imperialism.
At Hang Duong Cemetery, there are 1,922 graves of patriotic heroes. Inside, heroic martyrs of Vo Thi Sau is always visited by thousands of people from all over the country every year on holidays and festivals
Beside the deep historical and humane educational values, Con Dao is particularly attractive to tourists by the French ancient architect, beautiful beaches and coral reefs.
The means of transport between the Island and the mainland are strongly invested to create favorable conditions for tourism development.
Introducing the 5-star speedboat Con Dao Express 36
Con Dao Express 36 is operating daily to transport passengers  from Vung Tau to  Con Dao and Con Dao- Vung Tau. This high-speed boat is the largest two-hull ship in Vietnam today with a length of nearly 47m, the largest width of more than 12m, accommodating 598 passengers.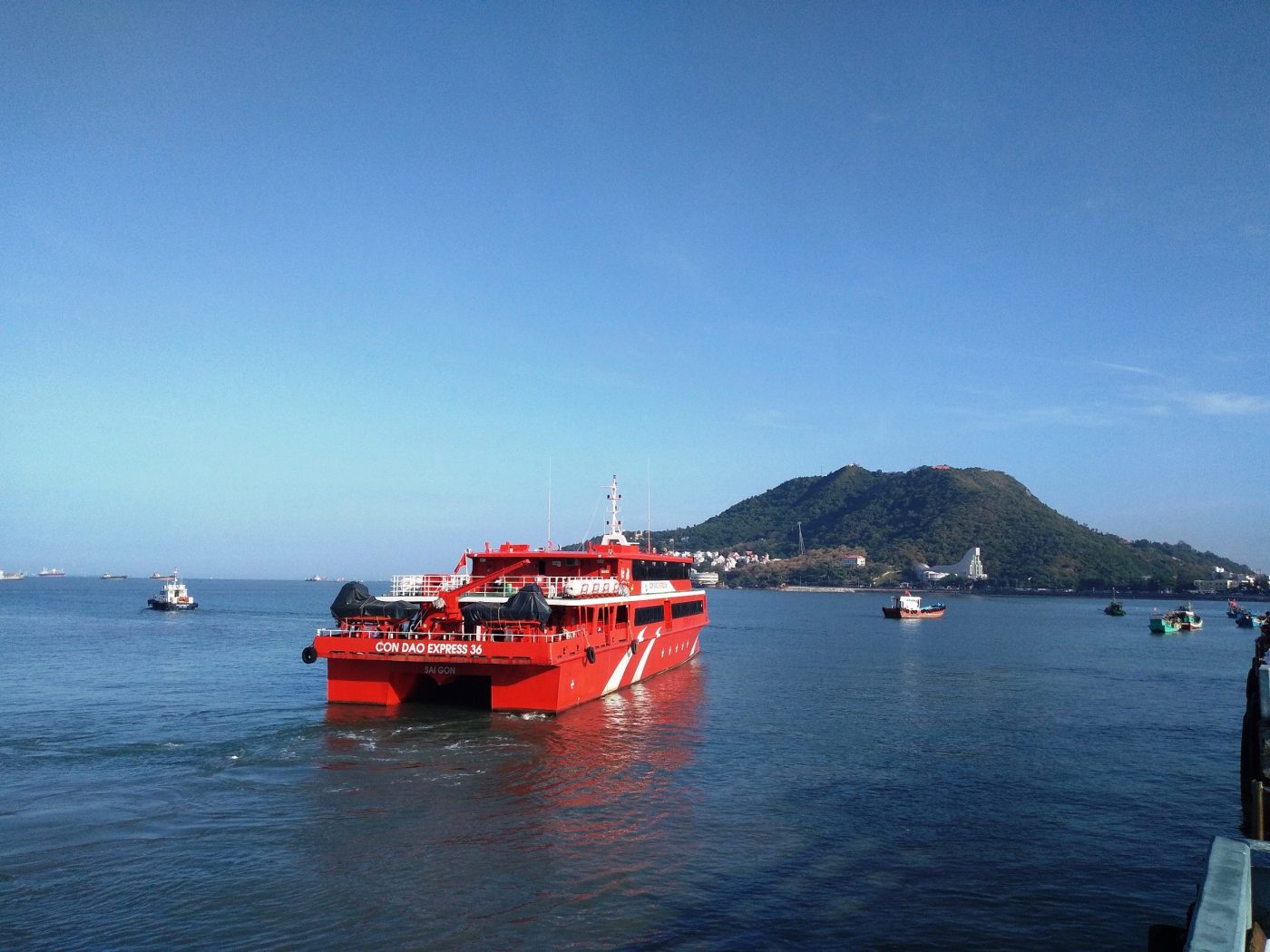 The ship is equipped with 4 Roll-Royce MTUs with a maximum speed of 35 knots (equivalent to 60km / h). At this speed, the journey of Con Dao Express 36 ship from Vung Tau to Con Dao or vice versa takes only 3 hours, down nearly 10 hours compared to traveling by conventional ships operating in Vietnam today.
Con Dao Express 36 is designed according to European standards and meets the national standards for classification and high-speed ship building. As a double-deck ship, when operating, the ship has a high stability, along with a large passenger compartment to help passengers not be tired, minimize seasickness.
Prices for high-speed boat tickets Vung Tau to Con Dao
Days of the week Monday – Thursday:

VIP Class: 1,200,000 VND/one way
ECO Class: 660,000 VND/one way
Senior/ Children: 550,000 VND/one way

Weeked Friday, Saturday, Sunday, Holiday:

VIP Class: 1,200,000 VND/ one way
ECO Class: 880,000 VND/ one way
Senior/ Children: 700,000 VND/ one way
The schedule of Ferry from  Vung Tau – Con Dao
Vung Tau  –  Con Dao

Departure: 08:00 – Arrival: 11:50
Address: 09 Ha Long st Cau Đa Port – Vung Tau

Con Dao – Vung Tau

Departure: 13:30 – Arrival: 15:20
Address: Ben Đam – Con Đao
Take a  helicopter to Con Dao from Vung Tau
The helicopter departs 02 flights per week on Friday and Sunday with the following schedule:
Vung Tau: Check in: 12h00 – Departure (ETD): 13:30
Con Dao: Check-in: 14:30 – Departure (ETD): 15:30.
Flight ticket price Vung Tau to Con Dao
2,200,000 VND / one way / adult
1,980,000 VND / one way / child.  Children (from 2 to under 12 years old, under 2 years old free of charge)
Booking support: 0389 546 426 or Email: hoanghanh12290@gmail.com